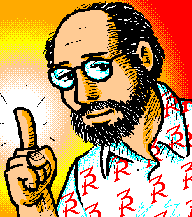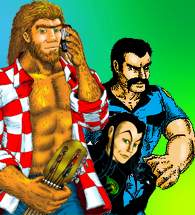 The One & Only Official
3R Home Page
this being Ronald Russell Roach's personal web-site, featuring original art, stories, comics, songs, Armageddonquest tie-ins & notes, author's bio, stuff like that.
3R's BULLETIN BOARD
Regular readers will know that there's nothing regular about this home page, months can go by with zero additions or changes. Nothing new here, folks.
But I always have a great excuse: I'm really working diligently on my current novel, the the long-awaited great & wonderful sequel to Bigfoot Epic Adam out of Eden. Yeah, yeah, you say, how long can I draw out that flimsy old excuse? Why don't I just admit that I'm a lazy dullard who'll never finish his pipe-dream?
Well, because I DID finish it! I've just posted ADAM INTO BABYLON today, Sunday the 5th of September 2020. 85 chapters, lotsa words, some drawings, some songs. You can find it here in the ADAM section, you can read it for free, so far.
I say I've finished it, but may still tinker a bit, we'll see. Put in some drawings, etc. If anyone finds mistakes and lets me know, I'll fix them, stuff like that.