the Royal Family of Denmark
The Danish monarchy relenquished its political power several generations back, paving the way for today's modern democracy with parlaiment and Prime Minister. But the Royal Family still exists as symbolic head of the Danish Family, and are incredibly popular to most of the people of Denmark.

Of course while not every Dane is a dedicated royalist, most agree that the Royal Family of Denmark do earn their keep with a PR clout that money simply cannot buy. It helps that they are a nice bunch of people who do not seem get into the outrageously scandalous situations that plague other European royalty (check out the British tabloids!), but they still fill up a lot of magazine pages because-- well, because they're just so fun to read about!
---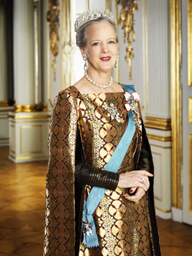 Queen Margarethe II

The current Regent of Denmark is a rather nice lady now in her 60's. When younger she illustrated the Danish translation of Lord of the Rings, so she's got to be cool, right? Well, she is, her paintings are considered "arte" and she has done coreography for the Royal Danish Ballet. Oh yeah, and she does official Queen functions too.

I "met" Dronning Margarethe once in an art supplies shop in København. I was buying some pens (to draw Armageddonquest, I suppose) and there was a tall elegant lady next to me in a fur coat, also selecting some pens. I didn't think much about it, except to notice that it was probably a rather expensive mink coat or something. She turned around, our eyes met, I smiled at her, she smiled back, and moved on. It took a second to recognize her, there had been no pomp or noticeable security activity. In fact I wasn't sure it WAS her, so I looked around-- and yes, there was her guard: a polite young blonde man in a suit keeping well out of the way, smiling shyly, a diametric opposite to the agressiveness of a American Secret Service Agent for example. It was nice, she wanted to pick out her own art supplies in her favorite shop, so she did.
---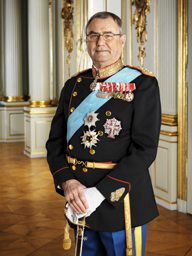 Prince Henrik
Margarethe's husband is not The King, but the Prince Consort just as in England. Henrik is French, so his real name is "Henri", and he has in fact had to live with the problem of the Danish language and a French accent ever since he married the pretty young Princess Margarethe in 1967. I have to sympathize, Danish pronounciation is a bitch for Americans too.
At least I don't have the Danish press after me: one of the best Prins Henrik's accent stories is when he came back from a fox-hunt and said: "Jeg skød ikke noget, men jeg så en røv." Intending to say, "I didn't shoot anything, but I saw a fox." It's just that the word for "fox" is ræv, while røv means "ass". Well oops, but hey, just one of those funny Danish letters mispronounced.
---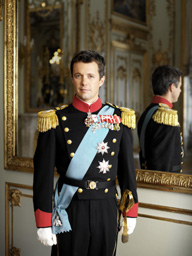 Crown Prince Frederick
Frederick was just a kid when I came to Denmark, so I watched him grow up along with everybody else. He didn't like being the center of so much fuss back then, and he's still trying to be just a regular guy. But actually he's not-- he's quite an impressive athelete, ran marathon along with everyone else, trained to be a Navy frogman, worked as liason in several Danish Embassies, spent half a year crossing Greenland ice with the Polaris Expedition, graduated from Harvard, etc, etc. AND had a stream of dream-beautiful girlfriends. Guess he finally came to realize that it's okay being a Prince...
Now after 40, he's married (see Mary) and settled down with two kids, living in a castle, and buckling down to the duties of becoming a king someday. Although first he'd like to finish his fighter-jet pilot qualifications. Man, wish I was prince...
---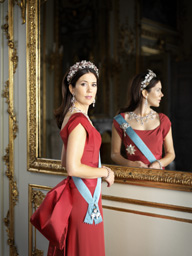 Crown Princess Mary
Mary Donaldson was not from any sort of royalty, she was an uncommonly pretty commoner living in Australia when she met this charming young man attending the Summer Olympics 2000. Four years later she had become "Kronprincesse Mary", living a fairy-tale story come true. She impressed everyone by learning Danish rather quickly and rather well, then aimed her talents at the business of saving children via various organizations.
She also became a mother (a requirement of her position) and now little Prince Christian could be a future king of Denmark some day. Also a little sister, Isabella.
---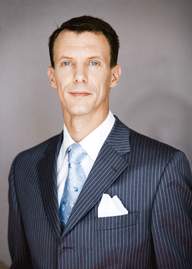 Prince Joachim
Frederick's little brother-- who is quite a bit taller, actually-- is the back-up king, and the one who ends up in the scandal sheets more often. Although really all he's ever done wrong was get divorced from his first princess-wife Alexandra (a fairy-tale prince wouldn't EVER do that). But now he's married again (Summer 2008) to the very French and incredibly sexy Princess Marie, and everything is as it should be, scandal-wise.
Joachim runs a large farm in Jutland, part of the Royal Family's holdings, and does princely duties every once in a while. He has two sons from his first marriage, Nikolai and Felix.
---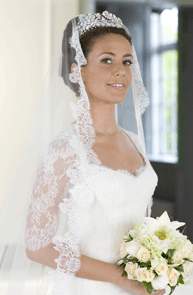 Marie
French Marie Cavallier is another commoner-- those Danish princes are just so democratic-- and another uncommon beauty like Mary. In fact, the two girls resemble each other to the point of confusion, or at least amusement. They look like sisters, both dark-haired with classic good looks, good figures, atheletic hobbies, and almost the same name.
Marie studied and worked in New York for a while, as well as Swizerland, so she speaks several languages, which in important in the princess-biz. But now she has to learn Danish. ("Bon chance," thinks Prince Henrik, who knows how embarassing a French accent can be if you don't get it under control.)
---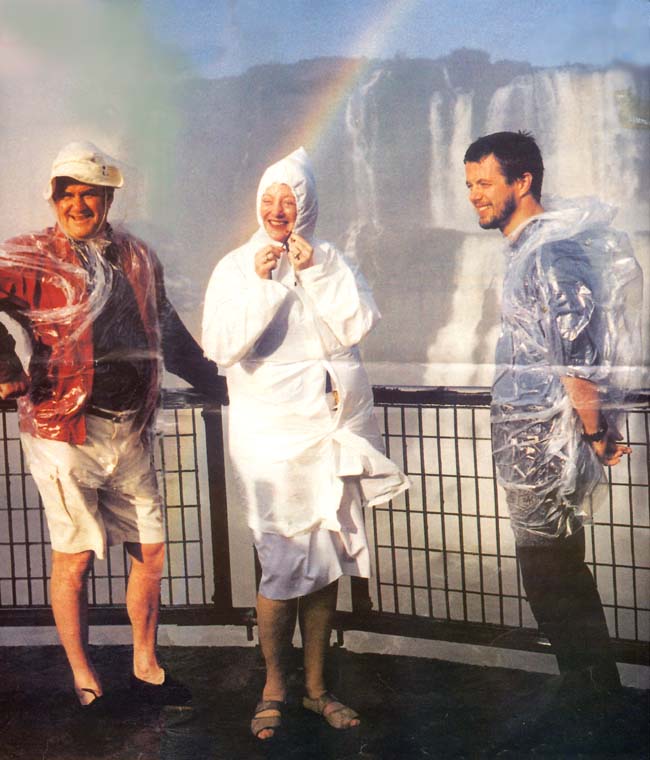 As you can see, they're not always dressed to impress, here they are visiting the world's biggest waterfall in Brazil, Foz do Iguacu, pretty much just plain folk.
My wife Marianne was never really a royalist until the Regent Couple's Silver Anniversary, when a crowd of family and friends came to Fredensborg Palace in North Sjælland at 6:00 in the morning to wake them up with song and celebration, Margarethe and Henrik leaned out the bedroom window to wave back: in bedcoats, no makeup, hair wild and slept-on, as unpretentious as anyone could be. We saw it all on TV later that evening.
---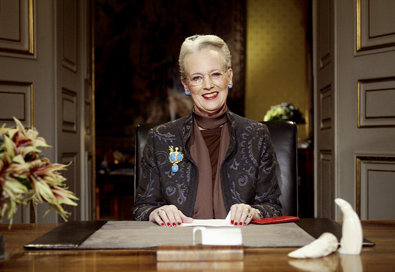 Every New Year's Eve at 6:00 PM, the Queen gives a speech to the people of Denmark, honoring some people for their contributions to the country, or dissaproving some unpleasant events, keeping in touch with her subjects. She always ends with "Gud bevare Danmark," which means "God protect Denmark," and everyone says it along with her.