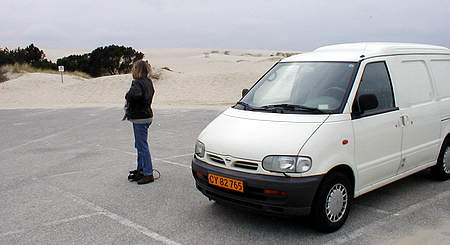 A Trip to the Tip of Denmark
April 2002

Marianne and I had a week off from work, so we planned to take a trip with our van, which is slowly evolving into a genuine gringo hippy camper. I've finished building the bed platform in back, luggage space underneath, double bicycle rack on the trailer hitch, camper stove, etc. We've slept sitting up in cars too many times down in Southern Europe because all hotels and campingrounds get packed to capacity in the summer, but now we'll show 'em (actually, NOT show 'em, since I've mirrorized the rear windows). So we went On The Road, anywhere would do.

We considered Amsterdam, but had a lot of errands on Monday--one of which was fixing the flat tire that awaited us in the morning, so it was Tuesday before we left. It's about 800 km to Amsterdam, and still a little too cold to be sleeping in a tin-can van, so we aimed for a nearer, but just as exotic, foreign country that we hadn't seen so much of yet: Jylland.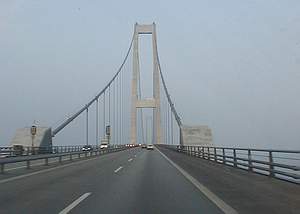 That's the continental part of Denmark. We ALWAYS go south, why not see a bit of our own country for a change? Skagen, for example, the northernmost point, where the Skagerrak and Kattegat seas close in on both sides until you end up on a little spit of sand with waves coming both ways. We'd never been there, so that's where we went, over the new Storebælt Bridge, which finally united most of Denmark with the European mainland about 2 years ago.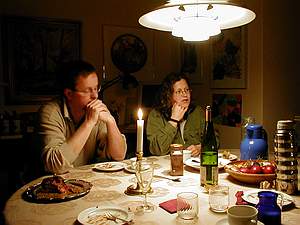 Besides, there were friends we've been promising to visit for years, which we finally did. Marianne has two yoga friends in Silkeborg, so we had a nice dinner evening with Ingrid & Klaus, then overnighted at Kit's because she and Thomas had much more room for guests. Long bicycle ride through Middle-Jylland the next day, visiting several ceramics workshops, yoga people Kit knew. Folk were really friendly and open, living the country lifestyle where no one locks their doors. Reminded me a lot of Washington State out by Monroe.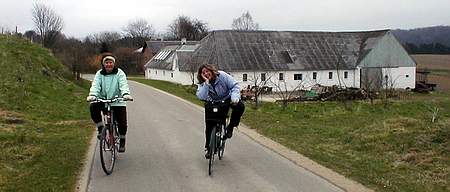 On to Skagen, which is evidently a Tourist Hell in the summer--you simply couldn't show up without a reservation and find a place to stay--but in April it was a ghost town. Even so, the few hotels we asked at did have rooms available, but at 700 kroner per night (about $80-100, depending on the exchange rate).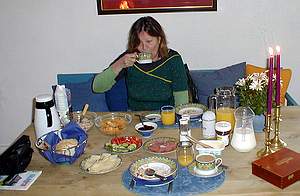 However, we also found a really nice old cozy Bed & Breakfast for 250 kr, where we were the only guests. We were served a luxurious breakfast beside the blazing fireplace next morning.

From there we bicycled out to Grenen, where the beaches meet between the seas. In midsummer it would be crowded with half-naked bathers, but now there only those few hardy souls who like to go for a jolly stroll on a brisk windy strand, well packed in jackets and caps and gloves. Not freezing, but definitely chilly. Then again, not raining either, so it was all right.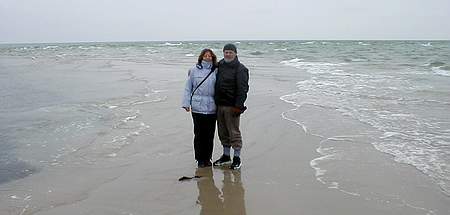 The town of Skagen is mostly museums, stores, resturants, hotels, tourist conveniences. It was a commercial fishing town in the old days, and the museum shows mostly paintings done by local artists who became Denmark's absolutely most famous painters (Michael Ancher, P.S. Krøyer), depicting the rough life of the seafarers and the elegance of the upper class at the turn of the last century. As you can tell, we got rilly cultural for a couple of hours...and then it was time to eat.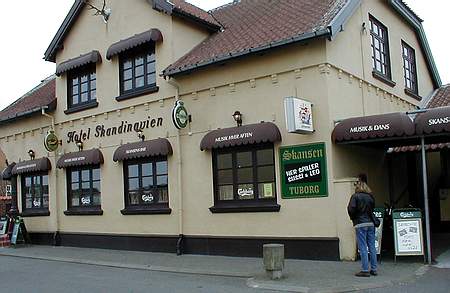 The værtshus pictured above is famous as Skagen's "hot spot". This is where Leo & Sussi play their Danish Country Western music, a local band which is reportedly so bad that they're fun. They're famous all over Denmark for it, anyway. We were there on the wrong day to catch them, but everyone told us that you have to be willing to drink a lot of beer in order to really appreciate Leo & Sussi, so we kind of just let it pass.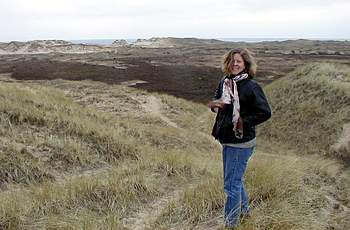 Denmark is pretty much a flat land, pretty but generally not very dramatic; no mountains, no rivers, no real wilderness. But the nature around Skagen was special, almost a Badlands area. Before they had begun planting grasses to give the sand some root structure, that area was plagued by incredibly massive wandering sand dunes which passed back and forth across the landscape, burying everything in their paths. We climbed one of them, a huge pile of white sand so fine it could be used for hourglasses, hundreds of feet high. Pretty impressive.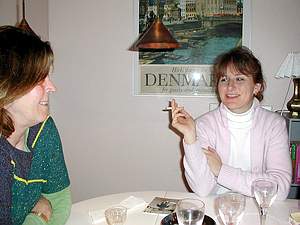 Then we went to Århus to visit Lene Chee. Århus is the 2nd biggest city in Denmark, especially popular for its vital music scene--we're talking rock'n'roll, jazz, classical, the works. So we wanted to do Århus By Night (there was a movie by that name, so it's kind of a cliché over here), but as usual, when you visit friends in a big city you end up eating with them, hanging out, and never going downtown at all. Oh well, we hardly ever make it out on the town in København either, and it's got an even bigger music scene.

But we did go exploring the next day, and Århus really IS a nice town. Not too big, not too small, a little of everything.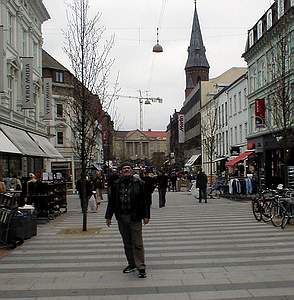 We did a little culture, a little beer, had an easy day. Marianne probably wasn't so impressed as I was by the numbers of wonderfully pretty Danish Girls, but wowee, sure were lots of 'em.

And then back home, a 1200 km round trip (750 miles). We were glad we hadn't pushed for Amsterdam, we would have been driving for most of the time we had. As it was, we drove max 4 hours at one time, with 1-2 hour spurts here and there. In the summer we usually have to devote an entire/24-hr day to end up somewhere along the Mediterranian, and yet another to come back home at the end of 3 weeks.

A lot of Danes--as well as every other nationality--go camping in Denmark in the summer, the islands are supposed to be great fun, and the camping scene is probably the same as anywhere else in Europe. We've never really considered it though, since the weather is so iffy. Beach weather is pretty much guaranteed down south.

There's also the adventure of visiting another culture, language, food, etc, which is what still interests us most. We really like to go to Italy, France, or somewhere entirely new like Slovenian, etc. But we might try Denmark, sure is easier to do, cheaper in travel expenses, and maybe there'd be a good summer---I mean, it COULD happen..

Ron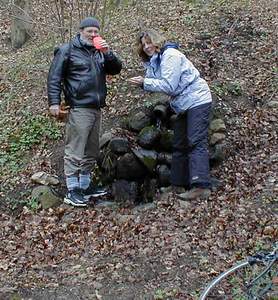 Ron & Marianne