250th Anniversary Night
Friday was the 250th Anniversary of Det Kongelige Teater, Copenhagen's Royal Theater, so they were having a Gala Festival. We saw in the paper that at 19:30 they would begin to televise so that all of Denmark could watch the famous dignitaries and Royal Family arriving at the theater.

Instead of turning on the TV we slipped on our coats and went out the front door, walked half a block, turned the corner and were standing on the steps of the Royal Theater. We stood among the tv cameramen filming the famous dignitaries, nodded to the Queen as she walked in past us. We ended up meeting some neighbors who were also there and stopping by their place for a cup of Gløgg.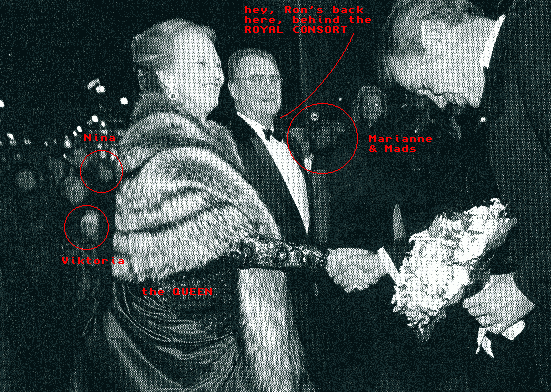 So check out this newspaper photo from INFORMATION, 21 Dec 98. Marianne & Mads are in the background, as well as our neighbors Nina & Viktoria...I'd be in it too if that silly couple hadn't gotten in the way...but then of course, if they hadn't there'd be no picture anyway, I guess.