OFFICER GARGANTUA
The Movie

A Movie about "Officer Gargantua"...whazzat? Well, everybody knows that the biggest blockbuster movies are filmatizations of superhero comic books, right? Okay, got one here: prison setting, visually dramatic, bigger-than-life heroes and villains, love, hate, violence, science, magic.

I once spent 3 years employed as a corrections officer (prison guard) in Washington State. Which was interesting enough, so I did a series of underground comic books based upon the place.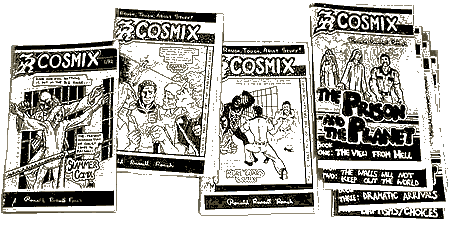 3R COSMIX © 1982


The prison stories were in the science-fiction fantasy-superhero genre, rather than social- realistic, but the background of the prison scene itself was as accurate as I could get it: the look, the language, the situation.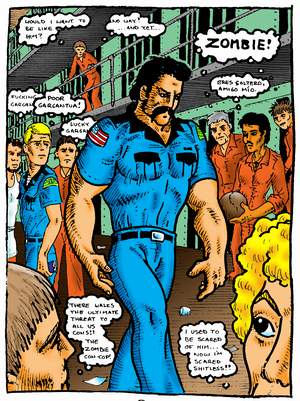 I populated my comix prison with as many semi-deliberate portraits of cons and guards I'd actually known while I worked there, then threw in a few fantastic characters to make the stories fun instead of grim. Among them Tazio and Immanuel, later to be stars of my somewhat ambitious 900 page ARMAGEDDON QUEST graphic novel. But I was equally enthusiastic about the magical Tattoo Master and the superhuman prison guard Officer Gargantua.
Gargantua first appeared in GUARD COMIX, which I self-published in 1982 as one of my own 3R Cosmix productions. He starred again in the 4-issue graphic novel THE PRISON AND THE PLANET, a 200 page drama about experiencing a nuclear attack from inside prison.
The drawings were rather rough, but I've always been proud of the story itself. In fact, I often thought it would make a great MOVIE. Originally a comic book, most of the action sequences were essentially storyboarded already.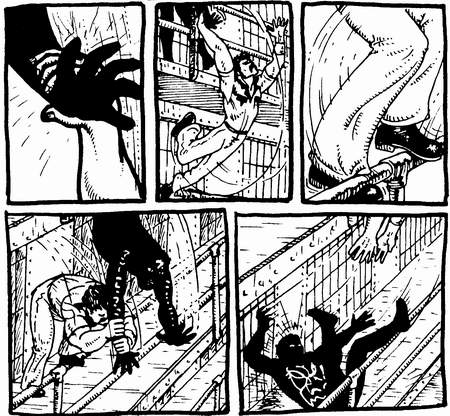 So I've finally rewritten and transcribed it to film manuscript format, and here it is-- GARGANTUA: The Script.
For a brief synopsis you can check out this Hollywood-type Treatment.
And here's even a gallery of Characters taken directly from the original comic books.
Or if you are a true academic, you can go directly to the source materiel, the immortal Guard Comix themselves.
So now all you need is a studio willing to make the movie.
3R