Som dansk gift Amerikansk kunstner der har boet i Danmark i mange år, skal nogle af mine projekter være på dansk, selvfølgelig. Being an American artist married to a Dane and living in Denmark for many years, some of my projects shall be Danish, of course.
---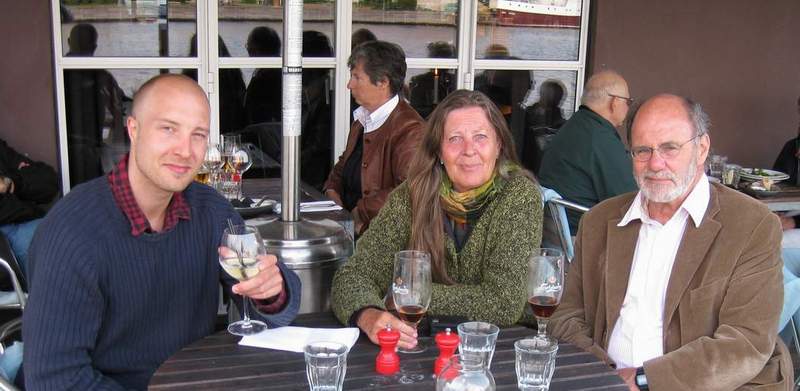 Marianne og jeg laver ofte projekter sammen, hvor hun skriver og jeg tegner. På billedet er vi med Mads, den lille dreng der var hovedfigur i vores to børnebøger (ok, han er 192 cm nu, men pyt!). Marianne and I often do projects together, she writes, I draw. Here we are pictured with that little boy who starred in the two kid's books (ok, he's 6'4" now, but hey).
---
INDHOLD
CONTENTS

Den Magiske Tommelfinger
En børnebog baseret på vores blaffetur igennem Sicilien dengang Mads var 8 år. A children's book based upon an actual trip, the three of us hitching around the island of Sicily when Mads was 8 years old.

Mads På Stop
Historie baseret på en anden blaffetur rundt i Spanien og Portugal, da Mads kun var 5 år. Story based upon an earlier trip, when Marianne and I hitched to Spain and Portugal with our son Mads, who was only 5 at the time.

Gårdlaugets Hjemmeside
Denne web-site har jeg lavet for vores gårdlaug, som Marianne er formand for. Vi er begge to aktivt involveret i lokale arbejdsprojekter og sociale arrangementer-- som kan ses på de billeder lagt her (mest af gårdens børn). This is the web-site I've constructed for our Gårdlaug (the "yard guild" for our apartment complex), of which Marianne is foreman. So we are often involved in neighborhood work projects and social arrangements-- as seen in the pix we've posted (mostly of the kids who live here).

Diverse:
Illustrerede plakater, reklamer for lokale arrangementer, osv. Illustrated posters, ads and notices for local events, etc.