SAME OLD KID,
NEW RESTAURANT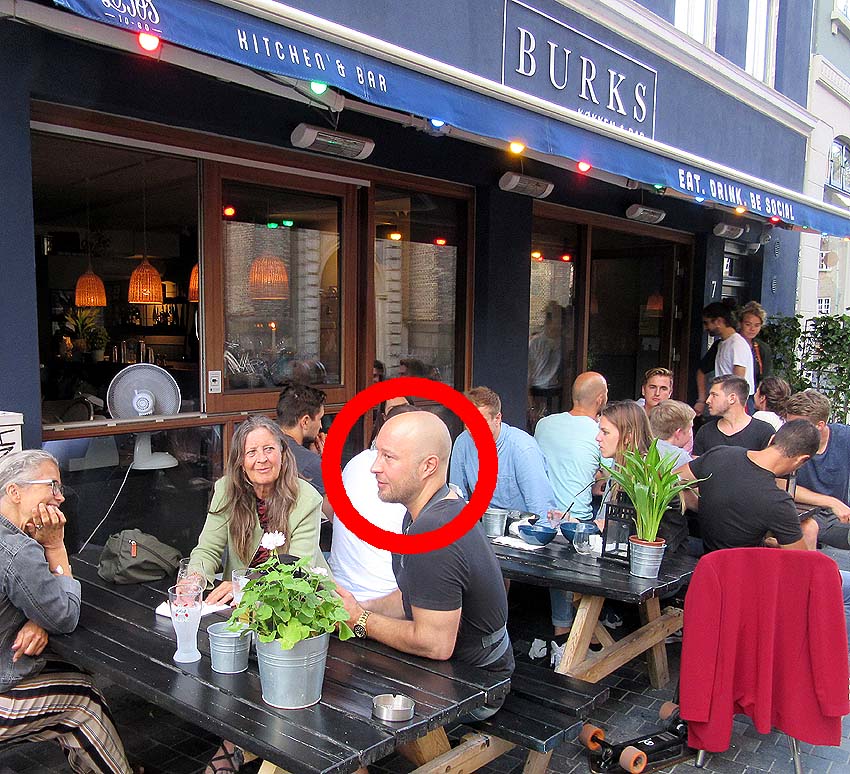 Our little boy, Mads Roach Jørgensen, only 40 years old now, has been a professional cook for several years and is pretty good at it. For the last 8 years he's been making food in a kindergarten, which was a cozy and easy job, free at 3:00 every afternoon, 3-day weekend. But no challenges... and not much money.
Then he got invited to work at one of the coolest restaurant/bars in Copenhagen: Kayak Bar. Which is perched upon several rafts floating in the kanal waterfront, where you can rent kayaks and/or hang out and be served drinks and burgers, work on your tan, then roll over the side into the water if you want to cool off with a little swim. Last year was a hot summer for once, so it just got busier and busier, crazier and crazier. So Mads dropped his safe & easy kindergarten job and became head chef. It was a fun job with a vast cool factor. Long hours, but when he was off he was already at the best party in town, on & on, into the hot summer night.
But this is Denmark, not Kuta Beach, and the summer evaporated. So did all the customers; nobody needed to roll over the side to cool off in November, it was freezing! The job evaporated too. One solution is to start your own restaurant.
So now Mads is in the process of establishing a new restaurant/bar in Copenhagen: BURKS Køkken/Café. Claus Burke had worked with Mads at Kayak Bar so once he obtained this new locale he specifically headhunted Mads to generate the menu and be kitchen chief. They officially opened 1st of June in 2019.
It's a great location: just beside Copenhagen's famous old Rundetårn (Round Tower), where Landemærket crosses Købmagergade, one of the main walking streets in the center of town. Both natives and tourists pass by constantly, a superb spot for people-watching.
In the first half of the day they'll be offering their own version of the classic Danish open-faced sandwiches (smørrebrød) as well as steamed clams and luxurious burgers, then gourmet-inspired meals in the evenings. There's outdoor seating for when the weather is warm, a nice warm interior when the weather is Danish standard, beer and cocktails available at the bar.
I'm a burger buff, so I asked Mads what version of a hamburger he'd be producing. "American in concept," he said, so Marianne and I had to check it out. When I first came to Copenhagen in 1965, you couldn't find a hamburger anywhere (or a taco), but now there are lots of places that specialize in the more expensive kind. I mean compared to McDonald's or Burger King, so there's a lot of competition to deal with. But it was all an American ex-pat could dream of: big fat beef paddy, generous clump of cheese, bacon, hand-made aioli, big thick & crispy fries. Tasted great, I had to admit that it was bigger & better than my usually-favorite Whopper. But it wasn't just a snack, it was a good solid meal and we couldn't be bothered with dinner later that evening.
So now we have a hangout where we can mooch free burgers & beer, hey, at last! Well, actually, we're trying to avoid doing that.
---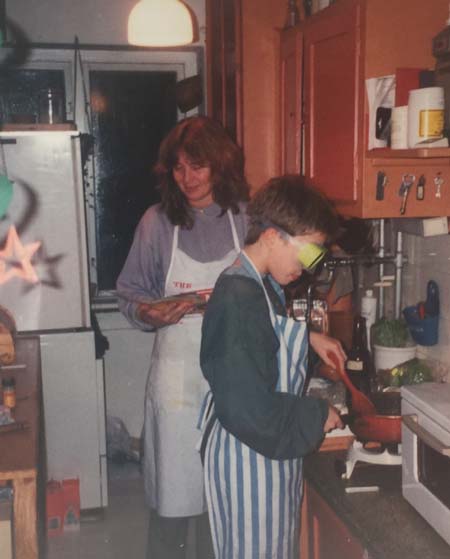 Here is a historical picture of Mads learning his trade: he's frying onions wearing swim goggles so he won't cry. He still does that to this day.