As every year, Marianne & I like to go on the road, traveling and adventuring in our van. This year we spent most of a month in Northern Italy, with lots of interesting & fun stops between here and there. Here are some pictures and a bit of travelogue.
We took off from København the 12th of August, stopping for the night in CELLE, Germany, simply because we'd never been there before. Exciting? Uh...well, no. But it IS where we ate our most expensive & disappointing meal of the whole trip: in the Rathaus (city hall) Ratskeller, which is supposed to be posh and swanky. Normally eating in Germany is great: well-made food and way cheaper than in Denmark, but this was surprisingly overcooked and overpriced. The beer was okay, tho. Just shows to go ya.
Next day we stopped into MAGDEBURG, mainly to see the Hundertwasser Haus, one of those fabulous (playfully asymmetrical) buildings designed by mad/glad architect Friedensreich Hundertwasser (Google it!). The town itself had obviously been severly bombed during WWII, so there is little sign of an Alte Stadt remaining-- and then they had to survive about 50 years of Eastern Germany's communistic regime. But today it's fine: a modern well-functioning city with new buildings, but not much old charm, often standard for DDR towns.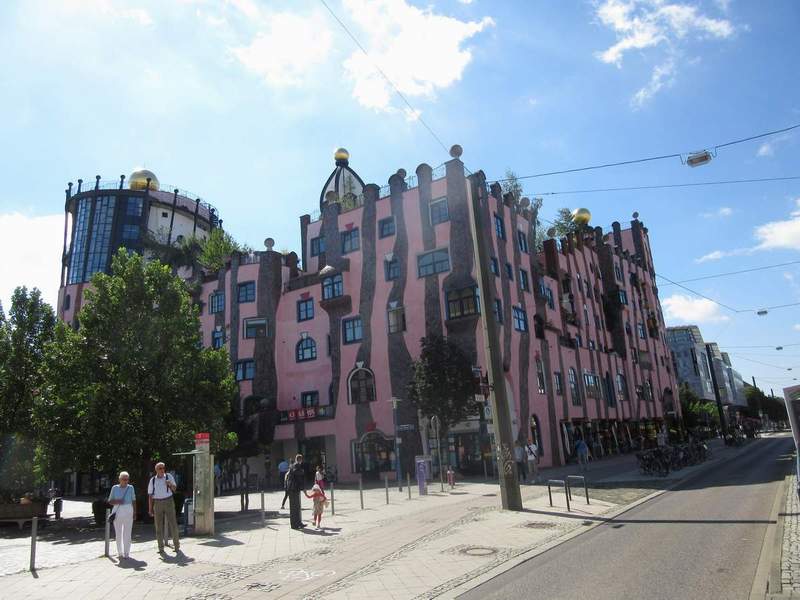 No trip down the German Autobahn would be complete without being stuck for a few hours in the colossal traffic jams known as STAU. I recommend it--- nicht.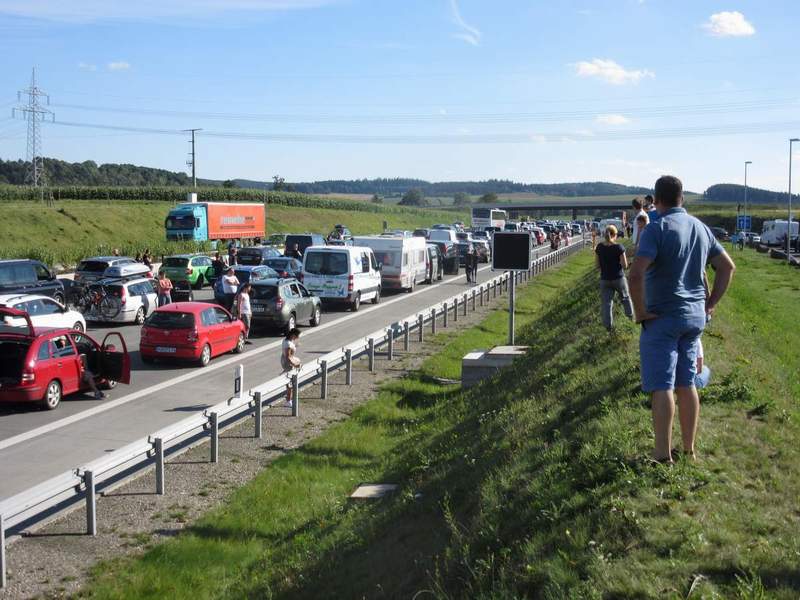 It was our plan to spend some time camping in southern AUSTRIA: beautiful nature, nice people, good food. In fact, we had our best & cheapest meal of the whole trip in Klagenfurt (schweinebraten mit sauerkraut, jawhol!). Here we're bicycling to the next town, Millstatt, 14 km away from our campground. Up & down lots of hills, curvy mountain road, hard work. Then I got a flat tire... but fixed it and survived.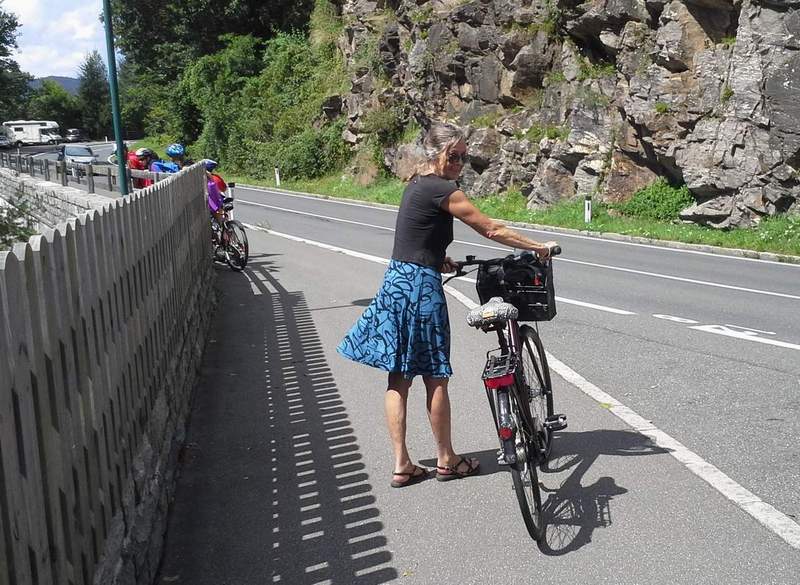 We were camping on this lake, Millstätter See. But see those clouds? The weather was a little too much like Denmark (or Seattle) so we only stayed a few days.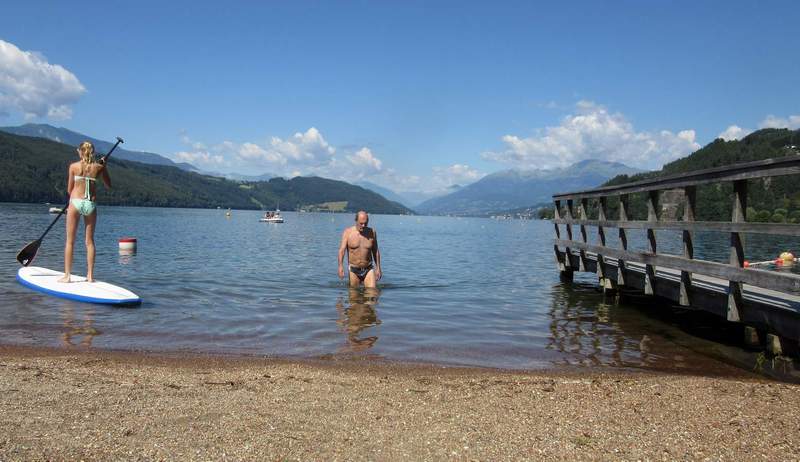 And as usual, the weather in ITALY was exactly what a summer vacation is all about. Here we've found a perfect free parking place in GRADO, a newly discovered beach town for us, so we stayed overnight just living in the van.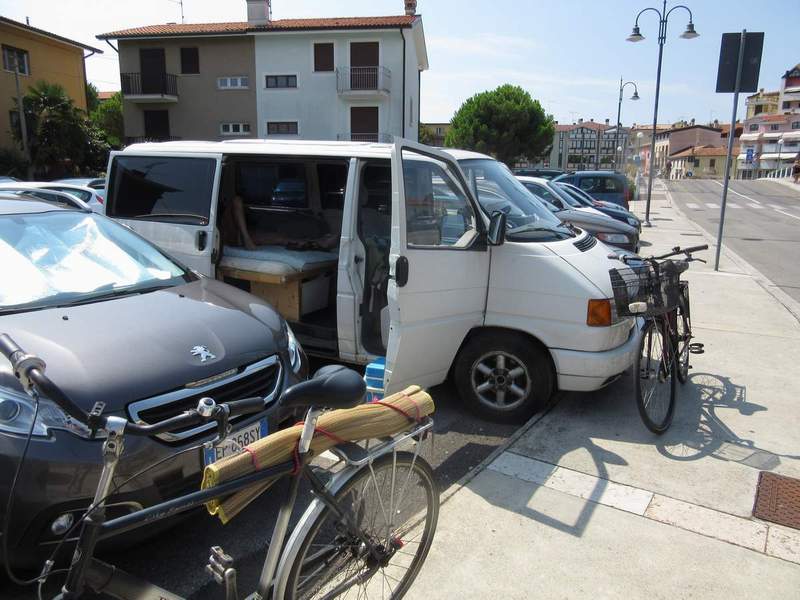 Here you can see the favorite drink of all tourists in Italy: Aperol Spritz Veneziano, usually served with various tapas. Yes, we're going native.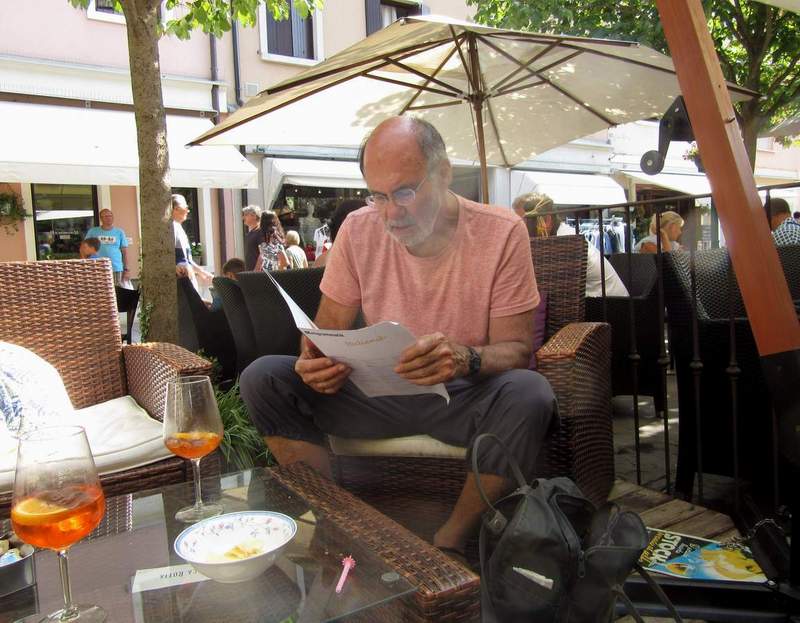 And on to CHIOGGIA, one of our favorite Italian beach towns, 65 km south of Venice on the Adriatic coast. Like Venice, it's also an old canal city, but small and cozy and pretty much tourist free except for campers. We've been there three times and have a favorite campground: good facilities; a short walk to the beach; an easy bike ride into town, where there are several nice big modern Italian supermarkets where you can buy just about anything.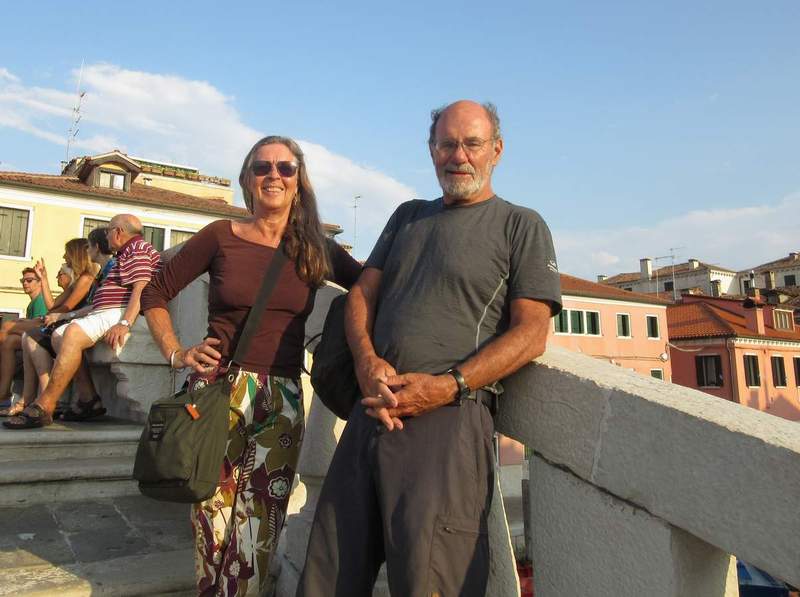 This is where we set up the tent, the stove, the hammock, unpacked the computer and got down to some real camping. So now we can spend our days going to the beach, doing some writing, and cooking home-made meals rather than eating out every night.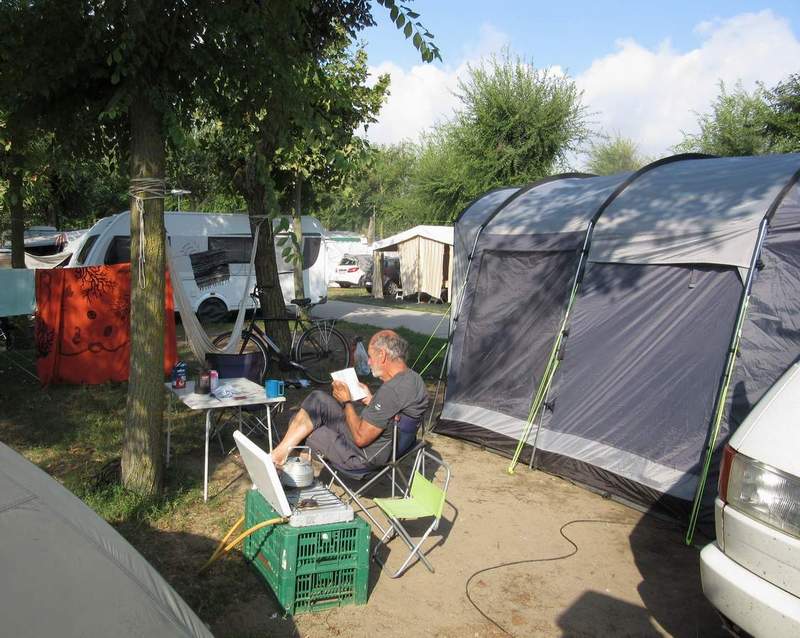 No, we don't just eat pasta & pizza while in Italy: we also make REAL (american) FOOD. Well, and pasta & pizza too, we're not that fussy.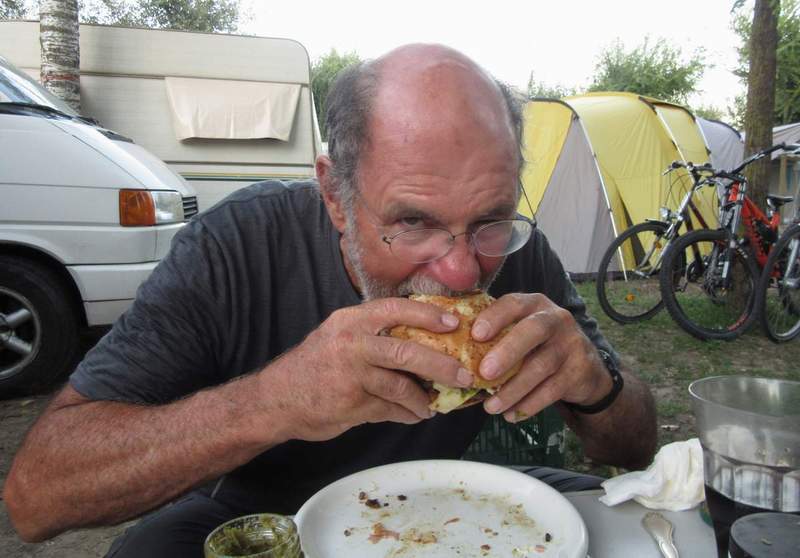 There is a boat line offering day-trips from Chioggia to Venice. Sounds like fun, right? The thing is that we HAD long ago learned NOT to go anywhere near major European tourist centers in the month of August-- but had simply forgotten how bad it could be. So we went-- and spent the rest of the day laboriously trudging through vast crowds of weary, hot, thirsty, tired & hopelessly defeated tourists like ourselves. Really an effective reminder. Here is the famous (obviously) Rialto Bridge, so you know what to avoid.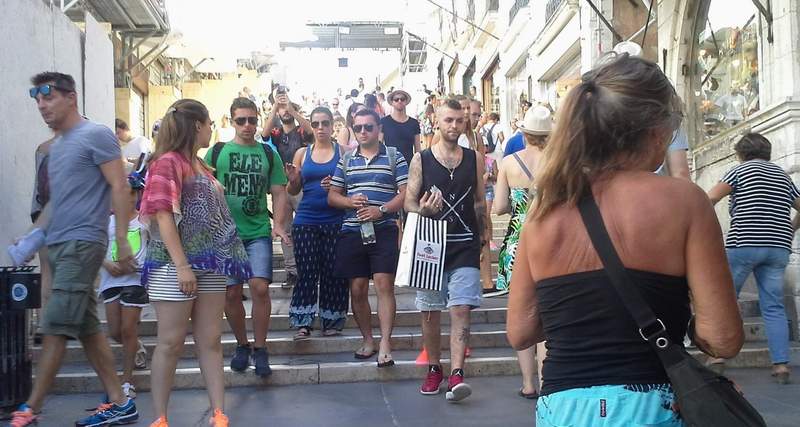 Biking along the old city wall around FERRARA, Italy.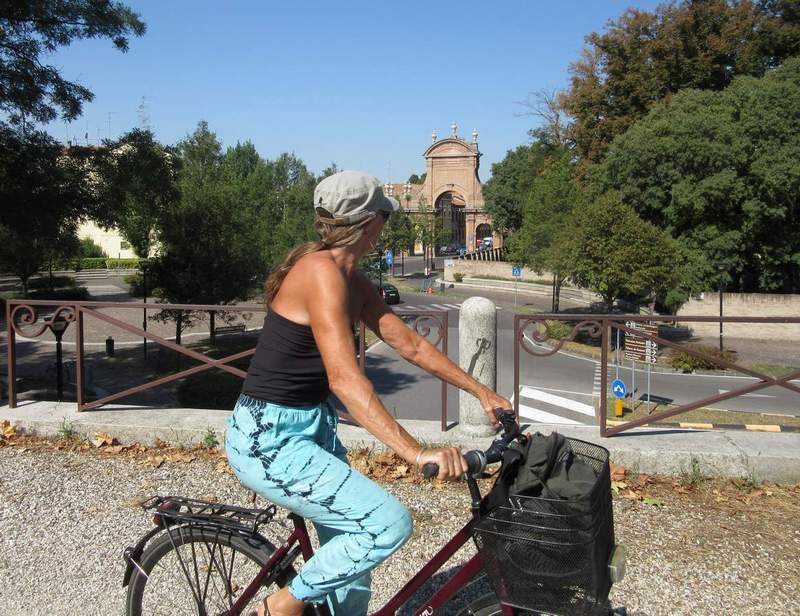 Hanging out downtown Ferrara, which is a very nice university town. And everybody bikes everywhere, just like Copenhagen or Amsterdam. In fact, you have to watch out, because there seem to be no rules like we're used to, crissing and crossing and coming up from behind (silently) prevails-- è un po pelicoloso.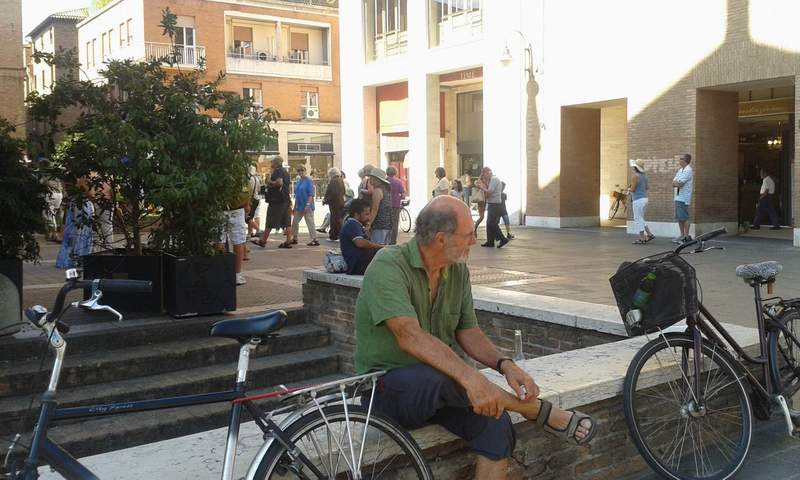 Taking time to smell the flowers in Lasize, one of our favorite towns on LAGO DI GARDA. We usually stop there for a few days to break up the long ride home (1540 km). The lake is beautiful and we have a favorite campground, a favorite bar, several favorite restaurants, etc.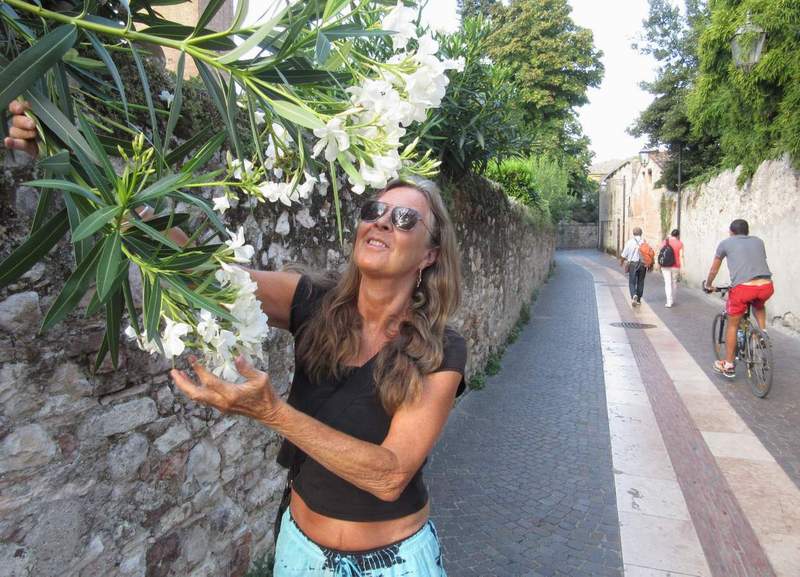 Normally we have to speak either German or Italian to any fellow camping guests that come along, with varying degrees of intelligibility. But suddenly a couple stumbled by speaking Danish --Jette and Allan from Herning-- so we got to tale dansk for the only time on our trip (except to each other). As you can see, they INSISTED that I play a little number (Malgueña Salerosa) while Marianne took this picture, immortalizing the moment.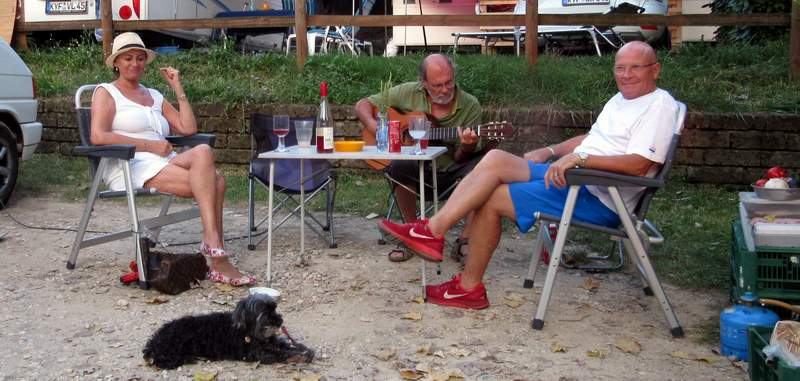 Home Sweet Van. It's a little sad to think that this is probably our last trip with this van, which just can't pass the Danish vehicle inspection any more without investing too much money into an old rattletrap.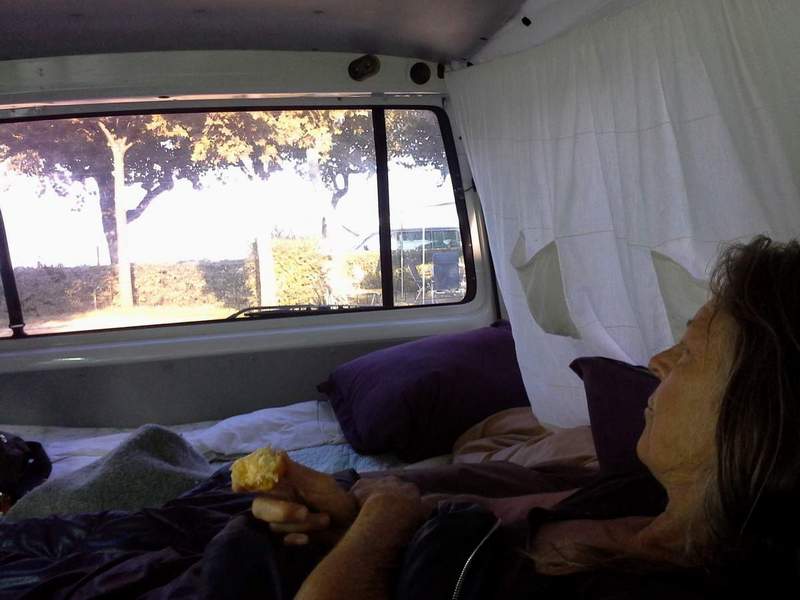 "Happy Birthday to me." 2nd of September. Marianne doesn't look like it, but she's just turned 71!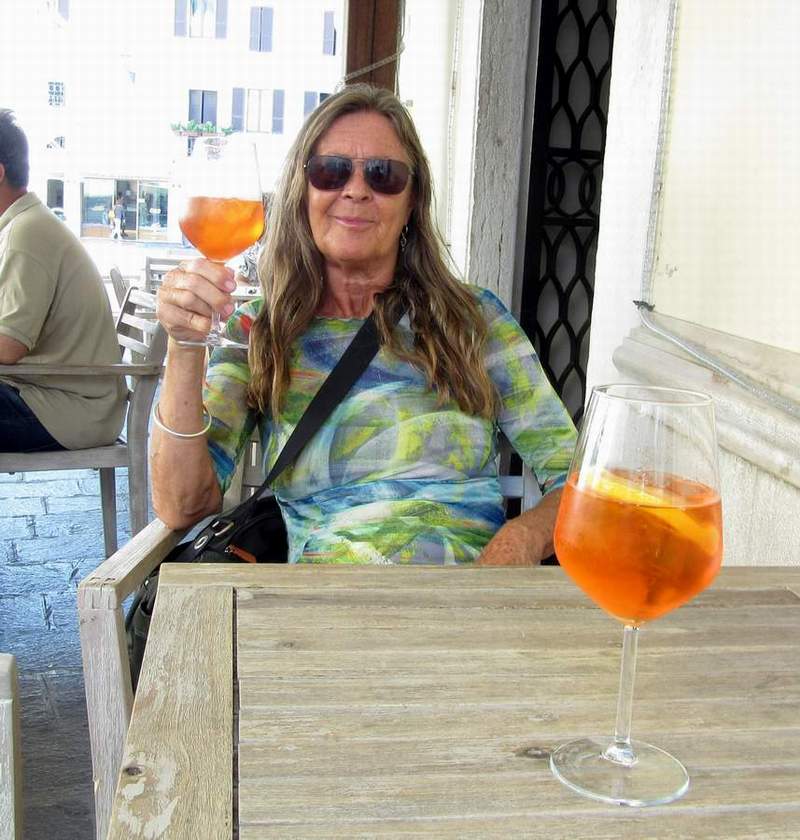 From Lago di Garda we drove about 5 hours to reach Kufstein, a favorite Austrian town where we always tank up on a few bottles of 80% Stroh Rum to last us through the year.
Next day pushed on to Göttingen in Germany, where there is the only Indian restaurant in all of Europe (as far as we know) where one can get a Masala Dosa. Yes, ok, we are creatures of habit, but we know what we like.
We'd planned to make one more stop, often ending up overnight in Lübeck before leaving Germany, but arrived too early not to continue the last 100 km to the ferry boat crossing to Denmark. We were in Kbh by 7:00 that evening after 3 days of (traditionally) high-speed Autobahn driving, but having leisurely stopped to eat & sleep along the way.
Okay later,
Ron