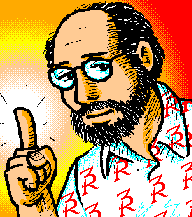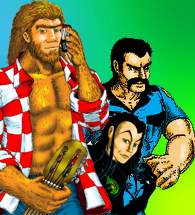 The One & Only Official
3R Home Page
this being Ronald Russell Roach's personal web-site, featuring original art, stories, comics, songs, Armageddonquest tie-ins & notes, author's bio, stuff like that.
3R's BULLETIN BOARD
---

As always, I keep myself busy writing and drawing. I beat the deadline for this year's Santa E-Card by a week (to be found within the NEW STUFF category), so I can now go back to writing my 3rd Bigfoot novel (is there no end?) Altho I finally did finish and post the SWATH sci-fi adventure series onto this very 3R Home Page after only a brief 22 years of composing those stories. And polished up the INTO JUPITER presentation. Yes, I've been a very good boy this year, silly waste-of-time fantasy-wise, that is.