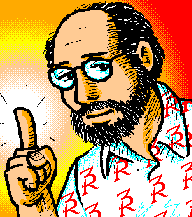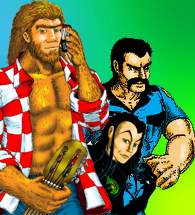 The One & Only Official
3R Home Page
this being Ronald Russell Roach's personal web-site, featuring original art, stories, comics, songs, Armageddonquest tie-ins & notes, author's bio, stuff like that.
3R's BULLETIN BOARD
Christmas time arrives again, what a surprise! But I've finished this years's Santa E-Card with moments to spare, now found on the NEW STUFF page, so I got me no worries, mate. Also got all my vaccinations, so I'm not even worried about the eternal Covid Pandemic, although it does make life unhandy by not just going away.