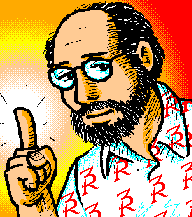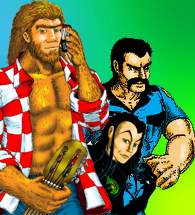 The One & Only Official
3R Home Page
this being Ronald Russell Roach's personal web-site, featuring original art, stories, comics, songs, Armageddonquest tie-ins & notes, author's bio, stuff like that.
3R's BULLETIN BOARD
Just posted a new illustration for Adam Into Babylon onto the New Stuff page, no reason, just for fun, couldn't help it. Although sadly, my old version of Photoshop has been deemed obsolete by the latest Windows update, and is now only available as a subscription service that would cost $240 a year (and again every year after that), so I'm trying to make do with Paint.net, which is free but has no spray brush for all those nice shiny feathered effects. Normally I'd make that bus glisten. Grumble, grumble.
But what am I complaining about? Yes, there's a deadly worldwide pandemic going on, human catastrophe all around us, climate change will kill us, but... Trump has been removed, so everything's going to work out now. Whee.