INVITATION

Fernisering torsdag den 29.April kl.16
Tegneserieudstilling i Det Kulørte Bibliotek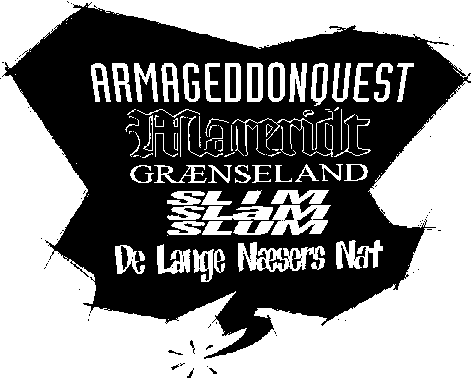 Krystalgade 15, 1172 K., Telf 33 73 60 12


Ferniseringen
which translates from Danish as:
the Opening Day Reception


On the 29th of April there was a reception to start the show. There was a crowd, a camera crew from TV3, librarian Inge Kandil introduced us artists to one another, wine was served, a spacey band played, people mingled, posed, got jolly. Marianne took pictures.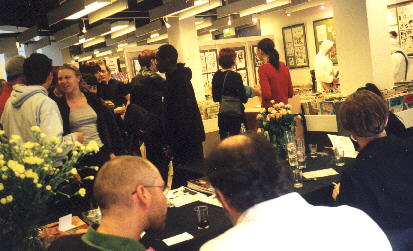 See the thronging masses, the excited fans, the groupies milling...this is what it's like to be a famous comic book author/artist. Wheee! I even wrote autographs.

---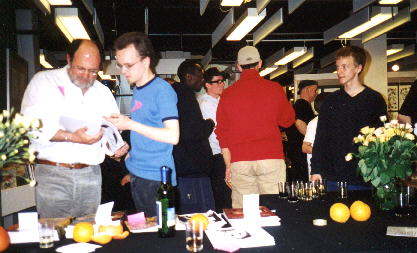 Here's the young hopeful Simon Pedersen comparing notes with the Old Pro & Master Cartoonist (me), wondering how to get into the industry. As if I knew, Sirius just sort of stumbled upon me, you know. Of course, I did have a body of work to show, and that's what I told Simon.

---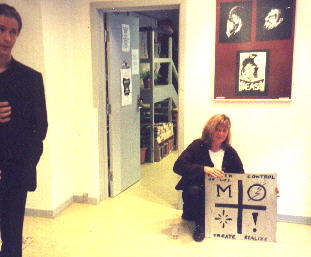 My main PR Agent, Marianne, who goes around talking to people about AQ. She's the one who caused this Exhibition to happen, not me. She went to the library and loaned them a set of AQ to read, got them interested. But of course, I came along for the ride.

Here she's holding one of the floor embellishments I did for the exhibition. It's the symbol for Mastery: Control, Create, Realize, you know.

---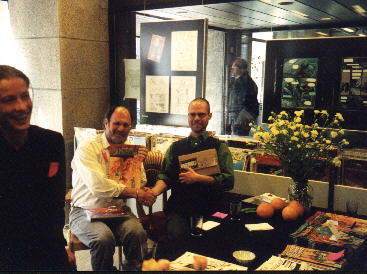 It was here I met Peter Snejbjerg, who pencils Starman for DC Comics these days, we hit it off and traded books. I'm holding Mareridt, which took him 7 years to finish because he was working for other people all the time. We found that we mutually knew a lot of fellow cartoonists; Per Vadman, Frank Madsen, Sussi Bech, etc.